At Can Pep we serve one of the best stone grilled meats in Mallorca. A culinary technique that consists of cooking meat on a stone of volcanic origin, usually basalt. The heat that this stone gives off, which is at a temperature of about 250-350 ºC, allows the unmistakable cooking of meat dishes on stone.
The stone grilled meat from Can Pep, a restaurant in Port d'Andratx, is one of the dishes most requested by our customers. A tasty T-Bone steak stone grilled to lick your fingers.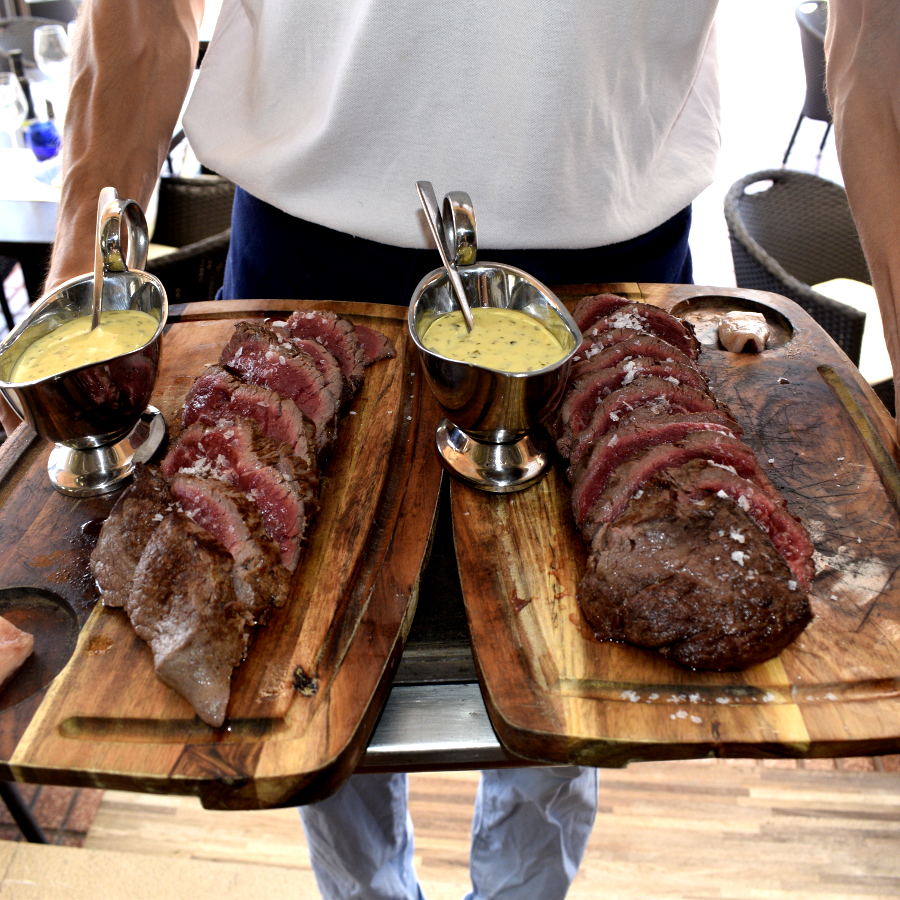 To achieve the perfect point of the piece of meat, the surface of the stone must constantly maintain high temperatures. Otherwise, the cooking of the food would be interrupted and this would be noticeable in the final result. The point of this stone grilled meat in Mallorca, which we serve at Can Pep, always depends on the consumer's taste. However, the technique allows choosing the right moment when its first cooking is finished and then the diner himself decides whether to continue cooking it with the basalt's own heat.
Keys for a good stone cooking
The surface of the volcanic stone must be completely smooth, so that it comes into contact with the meat evenly. Neither should its cleanliness be neglected: the stone should be perfectly cleaned after each cooking.
For its part, the meat must be of the highest quality, something that we take great care of at Can Pep. Before cooking it, it is convenient to keep it for a few minutes at room temperature, which avoids the thermal shock of the product just taken from the fridge. You also have to pay special attention to the size of the piece: the larger it is, the more cooking time it will require and vice versa.
Finally, comes the culinary experience of enjoying stone grilled meat in Mallorca, in a unique natural enclave such as Port d'Andratx. At Can Pep we never tire of serving this delicious dish, with which customers enjoy not only its delicious flavor, but also participating in the cooking until it is to their liking. We can only say… bon apetit!
https://restaurantcanpep.com/wp-content/uploads/2021/09/carne-a-la-piedra-Can-Pep.jpg
933
1400
Mallorca Global
https://restaurantcanpep.com/wp-content/uploads/logo.png
Mallorca Global
2021-09-24 13:50:49
2022-02-21 21:28:12
Stone grilled meat in Mallorca at Can Pep