The traditional "Festa de Ses Madones", which takes place every August 2, will also be held this year in Andratx, complying with all security measures so that no crowds occur and the safety distance is respected. This quote recalls the defense attitude of the women of the town when the town was besieged by Ottoman pirates in 1578.
On Wednesday July 28 at 7:30 pm "Ses Madones" and "Els Obrers" will stroll through the streets of the municipality inviting the neighbors to decorate the streets of the town so that the afternoon of Monday August 2, coinciding with the Mare de Déu dels Àngels, the parade of the "replegada de Ses Madones" is carried out in the best conditions. The "Festa de Ses Madones" represents the collection of these women (Madones), one by one, throughout the town on a donkey.
Thus, the parade is scheduled to begin at 8 p.m. on August 2. It will begin at the Municipal Sports Palace and will continue along Joan Carles I street accompanied by the Xeremiers d'Andratx, the Band of Music, the Caparrots de s'Arracó and the carts and horses of the Associació de Cavallistes d'Andratx.
Complete tour:
Joan Carles I street, 105: Rosa Maria Soler
Palma street, 8: Magdalena Flexas Morey
Palma street, 7: Magdalena Alemany Ensenyat
Menéndez Pelayo street, 8: Aina Cuart
Joan Carles I street, 75 : Núria Palmer
Joan Pagès street, 23 : Malén Coll Amengual
Don Pedro González street, 8: Margalida Massot
The party will end with a parade, with the floral offering on the Cross, in Plaça Pou, where the Coral Municipal d'Andratx will sing La Balanguera accompanied by the Municipal Band. Then there will be the reading of the "Sermó dels moros" in the church. Once the event is over, there will be a popular dance in the square with the music of Música Nostra.
Program: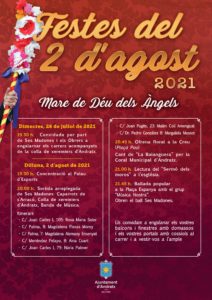 https://restaurantcanpep.com/wp-content/uploads/2021/07/madones-ok.jpg
836
1614
Mallorca Global
https://restaurantcanpep.com/wp-content/uploads/logo.png
Mallorca Global
2021-07-28 10:28:19
2022-02-21 21:28:21
Andratx celebrates the "Festa de Ses Madones"