The landscape drawn by the fishing boats of Port d'Andratx and its exquisite catches are one more reason to come to this town with a seafaring tradition. Although the fishing activity has decreased over the years, there are still boats like the Marruza that go out to fish from Monday to Friday to bring top quality products to the Lonja, which is still open today.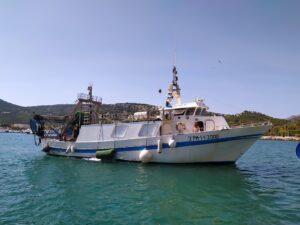 If you are a lover of fresh fish or simply one who is carried away by curiosity, you can go here any weekday afternoon from 6:00 p.m. to 8:30 p.m. to get the best catches of the day. The usual thing is to find prawns, crayfish and other delicacies such as San Pedro's rooster, red mullet, cod, hake or land fish such as gerret, whitebait, ray, etc. with which to prepare delicious broths and rice dishes. The vivid color that the pieces give off, with their shiny scales, make them truly irresistible. Not to mention its taste.
An experience to witness
Around 5:00 p.m., the fishing boats that launch into the sea in the early morning dock in the port. There a refrigerated truck awaits them, where the fresh fish of the day is unloaded, which minutes later is transferred to the Lonja, located a few meters away.
Many times it is the women of the fishermen who are in charge of preparing the fish for sale, distributing it in boxes according to species and size. When the Lonja closes, all the unsold product travels to the Lonja de Palma, where it is sold the following morning.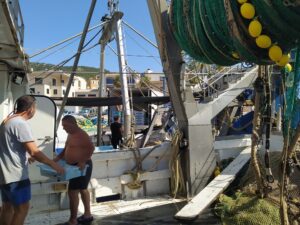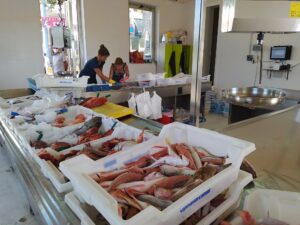 The Lonja opens its doors from Monday to Friday to offer fresh fish in Port d'Andratx.
The Port d'Andratx Lonja not only caters to individuals but also supplies restaurants in the area, such as Can Pep, where you will find daily fresh fish of the day that varies depending on the season. Check here the letter.
https://restaurantcanpep.com/wp-content/uploads/2021/08/Can-Pep.-Agosto-2021.-R.-B-2-scaled.jpg
1440
2560
Mallorca Global
https://restaurantcanpep.com/wp-content/uploads/logo.png
Mallorca Global
2021-08-30 09:54:55
2022-02-21 21:28:16
Fresh fish in Port d'Andratx: From the sea to the plate